This article will tell you how to upgrade/uninstall the vmware tools on VM where msi file missing error is showing. My Name is Jitendra and I am Vexpert 2017.
Vmware Tools64.msi missing during uninstallation and Setup.exe /c switch does not work.
When you try to uninstall the tools via below steps.
To uninstall and reinstall VMware Tools:
Right-click the virtual machine and c

lick Guest > Install/Upgrade VMware Tools.

Open a Console to the virtual machine and log into the guest operating system.

Click Start > Run, type

cmd

, and click OK. A Command Prompt window opens.

Change the drive to your CD-ROM drive (For example,

D:\)

.

Type

setup /c

and press Enter to force removal of all registry entries and delete the old version of VMware Tools.



Note

: For 64-bit guest operating systems, type

setup64 /c



But still it doest not work and unable to upgrade or install the tools on the VM,
Lets start with the solution now. You are most likely be aware about a Microsot msi cleanup utility. Yes that works like charm here and you will be able to resolve your issue by Microsoft msi cleanup utility.
Here we have link below from where you can download the msi cleanup utility which even dont get installed on the VM, it runs as portable tool.
Whenever you see any error like below not only for Vmware tools but it also works for any kind of msi missing error on windows server.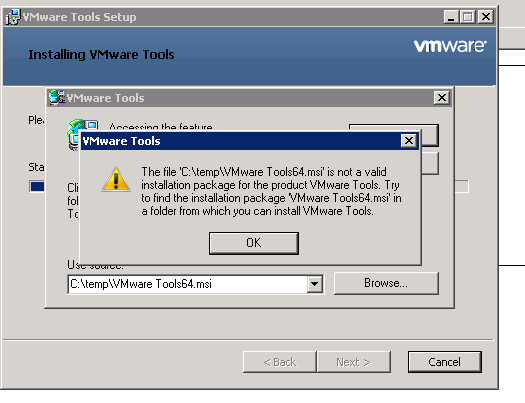 This will surely solve your issue.
Lets see how to start with.
Download link for msi cleanup utility
The below command will run from vmtools cd via cmd.
setup64 /c
So do not forget to like or share this link if you find this helpful. and comment also your suggestion or any topic which you want to get explained or any issue.