intial description
What is Vmware Virtual Volume?
Virtual Volumes (VVols) are VMDK granular storage entities exported by storage arrays. Virtual volumes are exported to the ESXi host through a small set of protocol end-points (PE). Protocol Endpoints are part of the physical storage fabric, and they establish a data path from virtual machines to their respective virtual volumes on demand. Storage systems enables data services on virtual volumes. The results of these data services are newer virtual volumes. Data services, configuration and management of virtual volume systems is exclusively done out-of-band with respect to the data path. Virtual volumes can be grouped into logical entities called storage containers (SC) for management purposes. The existence of storage containers is limited to the out-of-band management channel.

Virtual volumes (VVols) and Storage Containers (SC) form the virtual storage fabric. Protocol Endpoints (PE) are part of the physical storage fabric.

By using a special set of APIs called vSphere APIs for Storage Awareness (VASA), the storage system becomes aware of the virtual volumes and their associations with the relevant virtual machines. Through VASA, vSphere and the underlying storage system establishes a two-way out-of-band communication to perform data services and offload certain virtual machine operations to the storage system. For example, operations such as snapshots and clones can be offloaded.

For in-band communication with Virtual Volumes storage systems, vSphere continues to use standard SCSI and NFS protocols. This results in support with Virtual Volumes for any type of storage that includes iSCSI, Fibre Channel, Fibre Channel over Ethernet (FCoE), and NFS.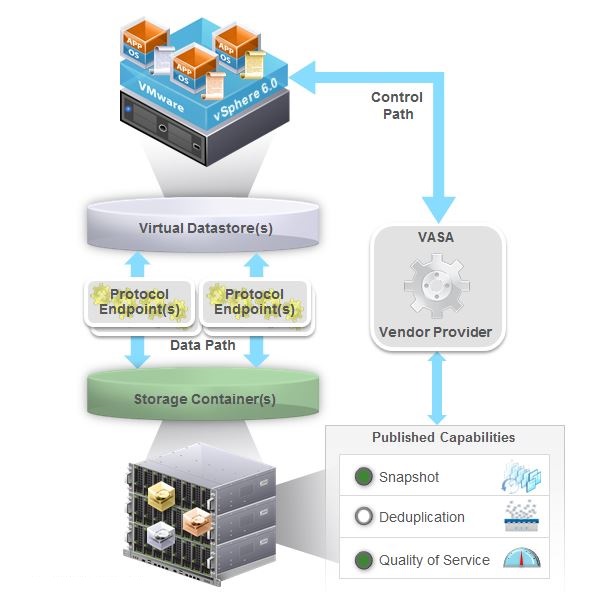 Guidelines when Using Virtual Volumes
The Virtual Volumes functionality offers several benefits and advantages. When you work with Virtual Volumes, you must follow specific guidelines:

Virtual Volumes has the following characteristics:

Virtual Volumes supports offloading a number of operations to storage hardware. These operations include snapshotting, cloning, and Storage DRS.
With Virtual Volumes, you can use advanced storage services that include replication, encryption, deduplication, and compression on individual virtual disks.
Virtual Volumes supports such vSphere features as vMotion, Storage vMotion, snapshots, linked clones, Flash Read Cache, and DRS.
With Virtual Volumes, storage vendors can use native snapshot facilities to improve performance of vSphere snapshots.
You can use Virtual Volumes with storage arrays that support vSphere APIs for Array Integration (VAAI).
Virtual Volumes supports backup software that uses vSphere APIs for Data Protection (VADP).
Virtual Volumes Guidelines and Limitations
Follow these guidelines when using Virtual Volumes.

Because the Virtual Volumes environment requires the vCenter Server, you cannot use Virtual Volumes with a standalone ESXi host.
Virtual Volumes does not support Raw Device Mappings (RDMs).
A Virtual Volumes storage container cannot span across different physical arrays.
Host profiles that contain virtual datastores are vCenter Server specific. After you extract this type of host profile, you can attach it only to hosts and clusters managed by the same vCenter Server as the reference host.

Key benefits of Virtual Volumes:

Operational transformation with Virtual Volumes when data services are enabled at the application level
Improved storage utilization with granular level provisioning
Common management using Policy Based Management
Thanks for visiting the site.
Write comment for more any query/comment/feedback.
Reference taken from https://kb.vmware.com/s/article/2113013