intial description
What is Vmware VSAN (Virtual SAN)?
VSAN is a software designed storage in Vmware which provides the ability to use ESXi local datastore as a shared SAN volume.
In short, This is new feature developed by Vmware in its Vsphere version starting from ESXi 5.5 Update 1 (Released in 11th March 2014) to till version ESXi 6.5 Update 2.
Reffer the Vmware KB https://kb.vmware.com/s/article/2150753 for the details about VSAN versions.
Different license category comes with VSAN:
Standard Edition: Best suited for hybrid environments so customers can simplify and automate storage management with per-VM storage policies.
Advanced Edition: Standard Edition plus all-flash space efficiency features (deduplication, compression and erasure coding) provides the most cost-efficient performance to customers invested in all-flash.
Enterprise Edition: Advanced Edition plus software-defined, data-at-rest encryption and stretched clusters delivers greater hardware choice and cost savings to customers.
Remote Office Branch Office Edition: vSAN for ROBO is best suited for remote locations with low consolidation ratios. It is sold as 25-VM packs based on vSAN Standard, Advanced or Enterprise Editions and is distributable across the different remote sites. It is limited to a maximum of 25 virtual machines per site.
Desktop Edition: vSAN for Desktop provides a licensing option for VDI users. It is priced per concurrent user (CCU) in a VDI environment and sold in packs of 10 and 100 licenses. vSAN for Desktop is also included in the Horizon Advanced and Enterprise bundles which have the vSAN Advanced license.
HCI Kits Edition: VMware HCI Kits offer one SKU for both vSAN and vSphere and provide the most cost-efficient and simplest way to adopt hyper-converged infrastructure powered by vSAN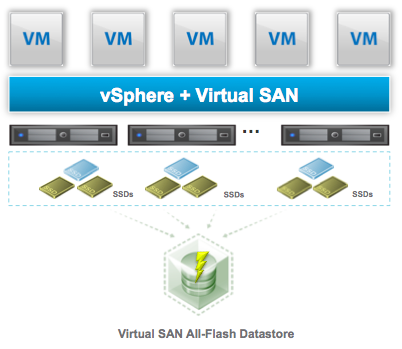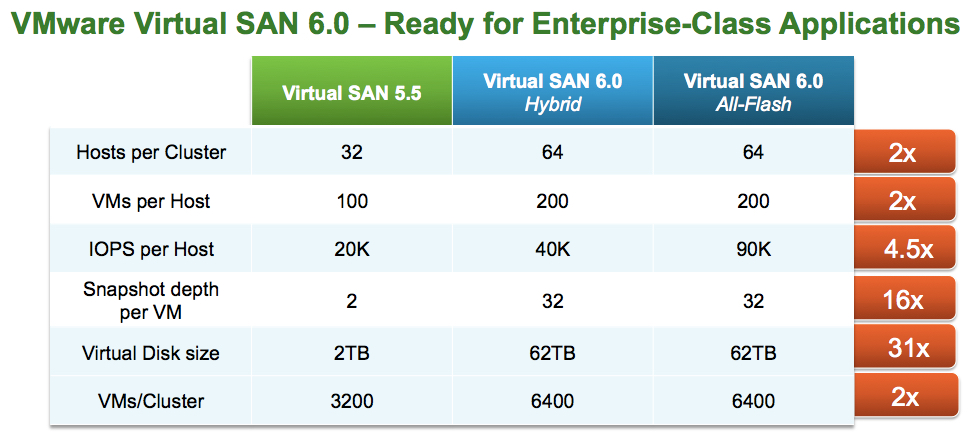 Hybrid Architecture
In the hybrid architecture, server-attached magnetic disks are pooled to create a distributed shared datastore that persists the data. In this type of architecture, you can get up to 40K IOPS per server host.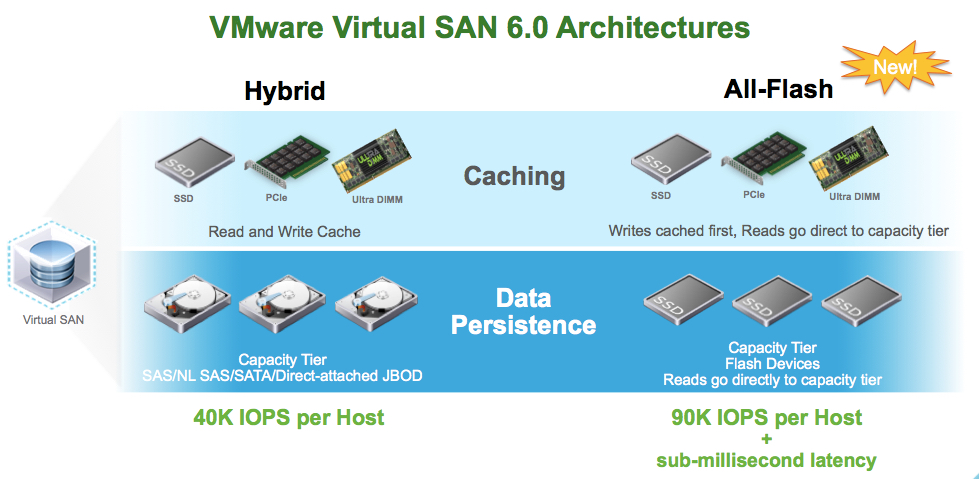 All-Flash Architecture
In All-Flash architecture, the flash-based caching tier is intelligently used as a write-buffer only while another set of flash devices forms the persistence tier to store data. Since this architecture utilizes only flash devices, it delivers extremely high IOPs of up to 90K per host, with predictable low latencies.
Thanks for visiting the site.
body
!!!!
Reference taken from https://blogs.vmware.com/virtualblocks/2015/02/02/vmware-virtual-san-6-0/